More and more women are discovering acupuncture alternative in helping them get pregnant. Infertility could have many underlying causes. Female reproductive system is one of the most complicated and fragile systems of the human body. Natalie Simak, R.N., L.Ac, Dipl.Ac, will look at your particular case in order to determine the right treatment for you.
In general, acupuncture works to restore the flow of Qi — your essence, your body energy. With regards to infertility, acupuncture treatment has a calming, restorative effect that increases a sense of well-being and ultimately helps the body to accept the creation of life.

Acupuncture with IVF
Acupuncture can definitely help improving the chance of success with the in-vitro fertilization (IVF) procedures.
Acupuncture has been widely used in Europe, Russia and Asia. In 2002, a team of researchers in Germany discovered that acupuncture significantly increased the odds of pregnancy among a group of 160 women who were undergoing IVF treatment. Forty two percent of the women who received acupuncture got pregnant, compared to twenty six percent of those who did not receive the treatment. The researchers speculated that acupuncture helped increase blood flow to the uterus and relax the muscle tissue, giving the embryos a better chance of implanting.
But what about non-IVF cases?
Since stress has been shown to interfere with getting pregnant, it makes sense that reducing your stress through acupuncture will definitely improve your odds of conceiving. Many women find acupuncture helpful to cope with the stress they feel about trying to conceive.
Acupuncture can also work to stimulate egg production in women who can not or do not want to use the western fertility solutions to help them get pregnant.
Here is some feedback from one of Mrs. Simak's infertility patients:
I just want to say that Natalie changed my life for the better. She will say that we did it together, but I couldn't have done it without her. I had gone to see her because I was feeling frustrated and anxious about not being able to have a baby. My husband and I had been trying for over a year, to no avail. With Natalie's encouragement and treatment, I began to relax and "detox" all the negative and bad things in my body.

Within seven treatments, I was pregnant!

Natalie, thank you so much for your support and encouragement. Most of all, thank you for getting my body in line for its most important job yet! I highly recommend this woman to everyone for anything. I learned some important techniques on how to relax and handle everyday situations. Acupuncture is good for whatever ails you, as long as you have an open mind...


Thank you Natalie!
Jessie
Natalie Simak, M.Ac, L.Ac, Dipl.Ac, RN
Summary of Qualifications
• Over 25 Years of combined Medical Experience

• Master's Degree in Acupuncture, MUIH

• Bachelor of Science in Nursing, Johns Hopkins

• NCCAOM Certified Diplomate of Acupuncture
and Oriental Medicine

• Member of MD Acupuncture Society

• Extensive Training in Fertility Issues

• Special Training in Scalp Acupuncture
and Electro-acupuncture

• Certified NADA and Aroma Therapist

• Taught Classes at the MUIH

• MD Licensed Acupuncturist and Registered Nurse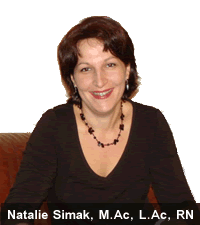 Natalie Simak is a licensed acupuncturist and registered nurse. She treats her patients at the Four Gates Wellness Center in Columbia MD. She has been working in the health care field for over twenty-five years.
She received a Master's Degree of Acupuncture from the Tai Sophia Institute (later renamed to Maryland University of Integrated Health), and she is a Diplomate of Acupuncture from the National Certification Commission for Acupuncture and Oriental Medicine (NCCAOM).
Ms. Simak is trained as a certified National Acupuncture Detoxification Association (NADA) specialist and an Aroma therapist. She is a current member of the Maryland Acupuncture Society and National Certification Commision for Acupuncture and Oriental Medicine (NCCAOM).
Her medical background includes a Bachelor's degree in Nursing from the Johns Hopkins University School of Nursing in 1997 and 17 years of experience working as a registered nurse at the adult medical unit at The Johns Hopkins Hospital in Baltimore, Maryland.
Read more about Natalie Simak...