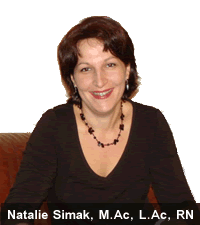 I am a licensed acupuncturist and registered nurse. I have been working in the health care field for twenty-five years.
In 2011 I received my Master's Degree of Acupuncture from the Tai Sophia Institute (later renamed to Maryland University of Integrated Health), and I am a Diplomate of Acupuncture from the National Certification Commission for Acupuncture and Oriental Medicine (NCCAOM).
I am trained as a certified National Acupuncture Detoxification Association (NADA) specialist and an Aroma therapist. I am a current member of the Maryland Acupuncture Society and National Certification Commision for Acupuncture and Oriental Medicine (NCCAOM).
My medical background includes a Bachelor's degree in Nursing from the Johns Hopkins University School of Nursing in 1997 and 17 years of experience working as a registered nurse at the adult medical unit at The Johns Hopkins Hospital in Baltimore, Maryland.
---
I became extremely interested in Chinese medicine after first experiencing the magic of acupuncture as a patient. While continuing working as a part-time nurse, in 2008 I entered into the four-year Master's program at the Tai Sophia Institute in Laurel, Maryland, where years later after my graduation I was invited to teach. After finishing the master's program, in 2011 I opened my own acupuncture practice and have been successfully treating patients in Columbia, Maryland.
I often take additional continuing education classes and training, specific to my interests in Chinese medicine. Some of my recent specialized training includes fertility, herbs, and electro-acupuncture.
In addition to needles, I use other techniques such as moxibustion (moxa), Gua Sha, cupping, electro-acupuncture, or a simple roller to stimulate the meridians. By knowing and using these various techniques I can still help people who are afraid of needles but wanted to give Chinese medicine a try.
My combined knowledge and experience puts me in the unique position of understanding health and wellness from two different perspectives. Some problems are better treated by modern medicine, but many can benefit from the more gentle approach of traditional Chinese medicine.
My goal is to help people with problems that arise from the stresses of life. These problems include almost any type of pain or disease. While I do not purport to be able to heal everything, I do know that acupuncture and Chinese medicine can help the body start its own healing.
I am honored that you have entrusted me to be one of your health care providers, and I am looking forward to hearing from you.
Natalie Simak, M.Ac, L.Ac, Dipl.Ac, RN