Summary of Qualifications
• Over 25 Years of combined Medical Experience

• Master's Degree in Acupuncture, MUIH

• Bachelor of Science in Nursing, Johns Hopkins

• NCCAOM Certified Diplomate of Acupuncture
and Oriental Medicine

• Member of MD Acupuncture Society

• Extensive Training in Fertility Issues

• Certified NADA and Aroma Therapist

• Taught Classes at the MUIH

• MD Licensed Acupuncturist and Registered Nurse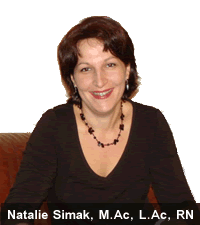 Natalie Simak is a licensed acupuncturist and registered nurse. She treats her patients at the Four Gates Wellness Center in Columbia MD. She has been working in the health care field for over twenty-five years.
She received a Master's Degree of Acupuncture from the Tai Sophia Institute (later renamed to Maryland University of Integrated Health), and she is a Diplomate of Acupuncture from the National Certification Commission for Acupuncture and Oriental Medicine (NCCAOM).
Ms. Simak is trained as a certified National Acupuncture Detoxification Association (NADA) specialist and an Aroma therapist. She is a current member of the Maryland Acupuncture Society and National Certification Commision for Acupuncture and Oriental Medicine (NCCAOM).
Her medical background includes a Bachelor's degree in Nursing from the Johns Hopkins University School of Nursing in 1997 and 17 years of experience working as a registered nurse at the adult medical unit at The Johns Hopkins Hospital in Baltimore, Maryland.
Read more about Natalie Simak...